Welcome Chihuahua Lovers!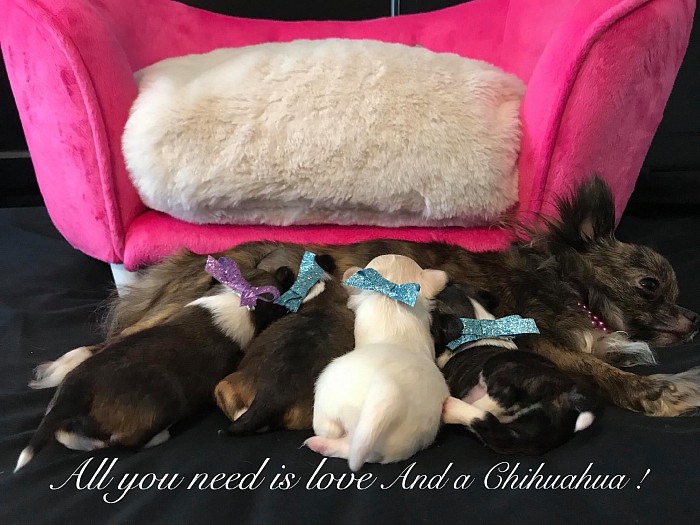 Welcome and Thank You for visiting Precious Gems AKC Chihuahuas !             Please find us on Facebook for the latest updates!
              We are a small in Home Breeder striving to better the breed in hopes to produce outstanding qualities in our chihuahuas. We look forward to the future as we hope to produce our own lines specializing in AKC apple head, long hair and smooth coat chihuahuas in array of colors. 
              Our chihuahuas are raised in a loving home, treated as part of the family, with having the freedom to run free inside and out of the house, as well as getting to go on occasional outings.
              For our own safety as well as our chi's, we will not be offering any puppy parents to our home. You will receive weekly pictures and videos throughout puppies stay with us. We do offer FaceTime of our home and puppies .
              Our puppies will not leave us until I feel confident that they are ready for their new home between 9 and 12 weeks of age. We work on pee paid training along with socializing puppies to different sounds . Puppies are handled several times a day by my husband and I and occasionally our kids and grandkids. Between 2 and 3 weeks of age puppies are moved from our bedroom to the living room ,they are then introduced to all the different nosies. Once puppies are walking around pretty good they are let out to play several times a day along with mingling with our adult dogs. At 8 weeks puppies receive their 1st set of shots and are vet checked by our licensed veterinarian. Puppies come pre spoiled along with a generous puppy pack which will consist of their shot records and enough puppy food to transition them over to your puppy food of choice, blanket with mama and siblings scent , Nutri cal, two puppy toy's, deer antler for teething and a few other surprises along with a life time of Breeder support, 30 days of free health insurance and 1 year health guarantee. 
              We offer shipping with a pet nanny for an extra fee that is not included in the price of puppy. Fee for pet nanny usually runs between 400.00 and 500.00 . You are more then welcome to fly in to pick up your puppy as well . We would meet you at the airport with your puppy . It would be a great opportunity for us to meet 😊 We are willing to drive and meet half way, with in a reasonable distance of us. We are located in central Oregon. We do require a deposit which will be determined by the cost of your puppy. All puppies will need to be paid in full before they can go home. 
               The website I choose to use does not make it easy for past puppy buyers to post much on my review page in the blog section. If you still feel uncomfortable please contact me . I completely understand the nervousness about buying on line and taking some ones word . I once bought from a Breeder who I thought was my friend. She lived in another state we talked on the phone a few times so I thought I could trust her. We bought our beautiful Chloe from her . Everything went wonderfully so when she approached me asking if I wanted to buy 2 of her dogs I was like absolutely. She was in a bad situation and needed money, so she was downsizing on her dogs. I sent her full payment through Walmart . Never received the dogs or any of my money back . So I fully understand being hesitant. I have lots of references to back up my credentials and faithfulness. Please ask me and I will be more then happy to make you feel comfortable and confident that you are buying from a reputable breeder!
              We do require an application and purchase agreement ! Why?? Because we are a very Responsible Breeder!! You don't just choose us we choose you to be part of our Chi family forever ❤️ We are looking for stable, loving homes that can financially provide a lifetime of happiness ! When filling out your application we would like in detail for you to tell us all about your self, home, job and how our chi baby would be raised in your home . We so look forward to getting to know our potential families! Thank you, we truly appreciate you taking the time to tell us all about you and your family! 
              We do have waitlist ! If on a waitlist we do not guarantee you will get a puppy the first go around. Unfortunately things happen that we are not in control of like small litters, not ending up pregnant, or even loosing babies 😢 yes this is something that we try so hard to not happen but at times god has other Plans 😢 . 
               Please fell free to contact us with any questions as we would be happy to answer. We look forward to helping you find the perfect puppy !
              It has been brought to my attention that another Breeder has copied my page pretty much word for word . I was super disappointed. I worked hard to make my page MY OWN in my words . To me you are just a fake if you have to steal some ones else's words because you can't come up with your own !